Regular price
$ 34.99 USD
Regular price
Sale price
$ 34.99 USD
Unit price
per
Sale
Sold out
View full details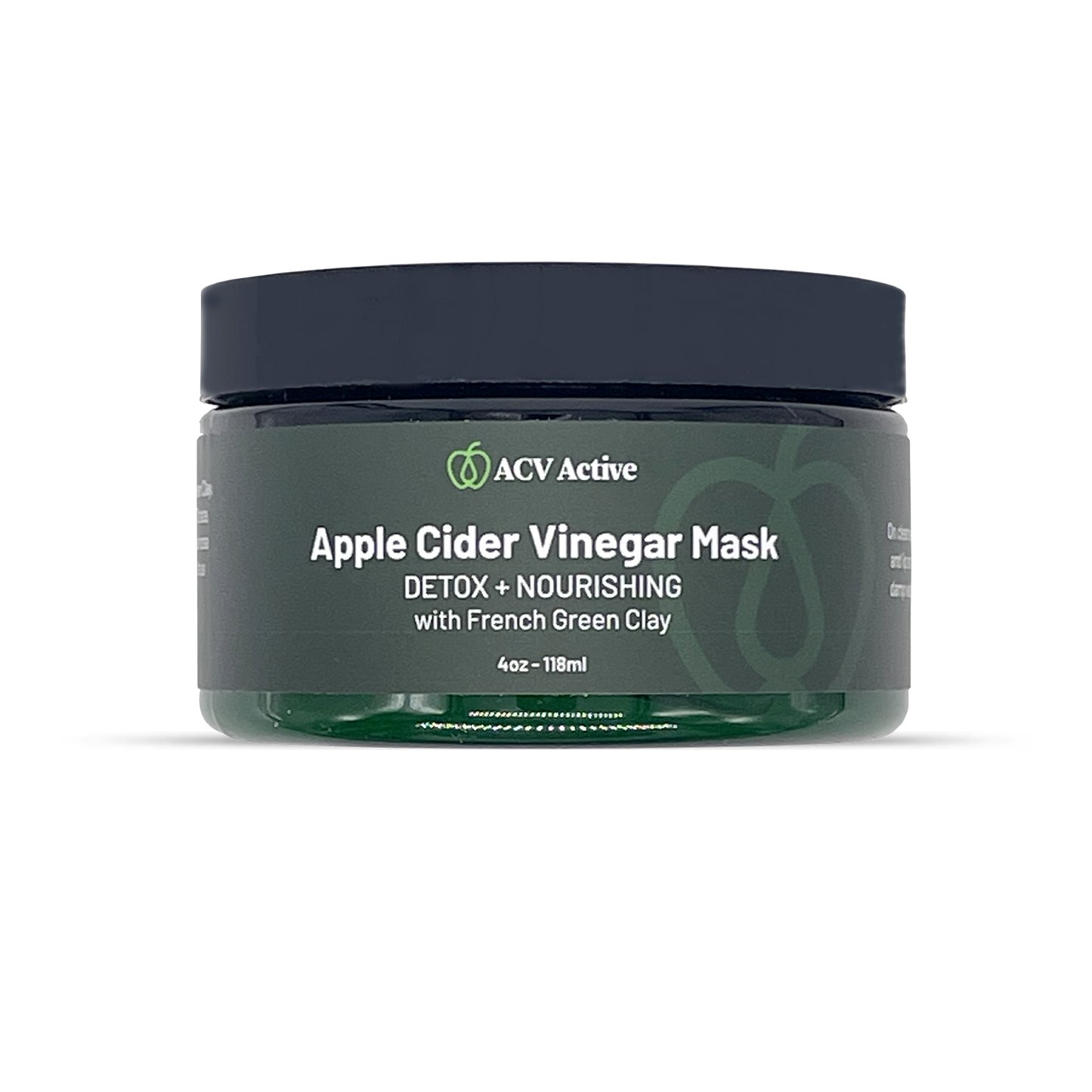 Description
Benefits
Ingredients
Application
faq's
Our Apple Cider Vinegar Clay Mask is a subtle yet powerful blend of carefully chosen natural ingredients. It is formulated to exfoliate, hydrate, oxygenate and nourish your skin. Every ingredient is instrumental in giving you a relaxing and effective at home spa treatment, leaving your skin feeling clean, refreshed and glowing.
You'll feel our soothing French Green Clay Mask go to work immediately. The Apple cider vinegar penetrates deep into your pores and assists the Green Clay in pulling out the toxins and impurities as it gently exfoliates your outer layer. The Olive Squalane hydrates your skin as 5 essential oils, including Jojoba & Argan, nourish and repair your skin. High in E & B complex vitamins, your skin will be left feeling toned and soft with a definite glow!
French Green Clay
Absorbs excess oil and impurities from the skin
Apple Cider Vinegar
Helps to balance skins pH levels and unclog pores
Olive Squalane
Helps to hydrate, reduce appearance of fine lines and wrinkles
Bergamot Oil
Anti bacterial promotes health skin and clear completion
Argan Oil
High in Vitamin E & fatty acids – helps to hydrate and nourish skin
Coconut Oil
Natural moisturizer & provides antioxidants against environmental stressors
JoJoba Oil
Closely resembles skins natural oils, helps balance skins natural
Lavender Oil
Calming properties help reduce inflammation & promote healing
Radish Root
Helps provide hydration and nourishment to the skin
French Green Clay, Olive Squalane, Bergamot Oil, Argan Oil, Coconut Oil, Jojoba Oil, Lavender Oil, Radish Root.
Recommended Use: 1 – 2 times a week Approx.
Number of applications per jar: 8 – 12
On clean skin, apply an even layer of the mask avoiding the lip and eye area. Wait 10 to 15 minutes for mask to dry, wipe off with damp wash cloth or rinse with warm water to reveal a smooth, toned, healthy glow. A slight redness or tingly feeling on the skin may occur*
*We recommend first patch testing a small area of your skin If irritation occurs discontinue use.
Why is apple cider vinegar good for my skin?
Apple cider vinegar has anti-inflammatory properties and it consists of acetic acid and alpha hydroxy acid. This means apple cider vinegar can exfoliate the skin, absorb excess oils and unplug blocked pores. It also has the power to restore the proper pH levels to your skin.
What is the tingling sensation I may feel?
It's Normal. This means the mask is doing its job. This sensation lessons as it begins to extract the impurities from your pores.
Will I smell like apple cider vinegar?
No. The odor dissipates once absorbed into the skin (about 15 to 20 seconds).
My skin is sensitive, can I use it?
Yes! Although ACV is 100% organic & Natural, we always recommend doing a tiny patch
Love it
It was easy to apply and your face feels so refreshing bright and clean, I highly recommend even though it's a little expensive for the size.
French Green Clay Mask
I recently received this mask and am pleasantly impressed by the way it made my skin look and feel afterwards. Refreshing and nourishing.
Mother and Daughter - Love it!
We're obsessed with this ACV Clay Mask. It's gorgeous, and so is the color! It felt amazing going on. Refreshing , silky, and the gentle tingle and cooling effect was sensational. it was so relaxing. Once we washed it off, it left our pores tighter and our skin did glow!
You might like this as well
Regular price

$ 29.99 USD

Regular price

Sale price

$ 29.99 USD

Unit price

per

Regular price

$ 34.99 USD

Regular price

Sale price

$ 34.99 USD

Unit price

per

Regular price

$ 32.99 USD

Regular price

Sale price

$ 32.99 USD

Unit price

per